As a nation, we are preparing to
return to work. It is now more important than ever to maintain
sanitary working environments.
To help keep construction sites open and businesses moving we've introduced a new range of sanitisation products tailored specifically for their effectiveness and ease of use on-site and in the workplace.
'Zapptizer®' Misting Gun – High-Pressure Disinfecting Sanitiser
A cost-effective, simple to use, portable mist-spray system. Designed to quickly and efficiently sanitise a range of on-site equipment such as; Tools, Plant, Vehicles, Workshops, Facilities and much more.
'Zapptizer®' is alcohol-free and non-staining. It's unique ingredients rapidly and effectively kills 99.9% of bacteria, viruses, fungi and moulds on both hard and soft surfaces. Also tested effectively on enveloped viruses which can include Coronaviruses and Type A Influenzas. One 22ltr canister can cover a very large area, up to 700-750m² making it an economical and rapid way of sanitisation.
The 'Zapptizer® Gun' features a fogging nozzle and comes with a 4m long hose. The hose is connected separately to the canister via a single-threaded value allowing the 'Zapptiser Gun' to be re-used any number of times once a canister is depleted.
—
Zapptizer® Gun & Hose Kit

(one-off cost)
£139

Zapptizer® 22ltr Canister


£235
—
Order your Zapptizer kit while stocks last:
Call 01525 493 333
---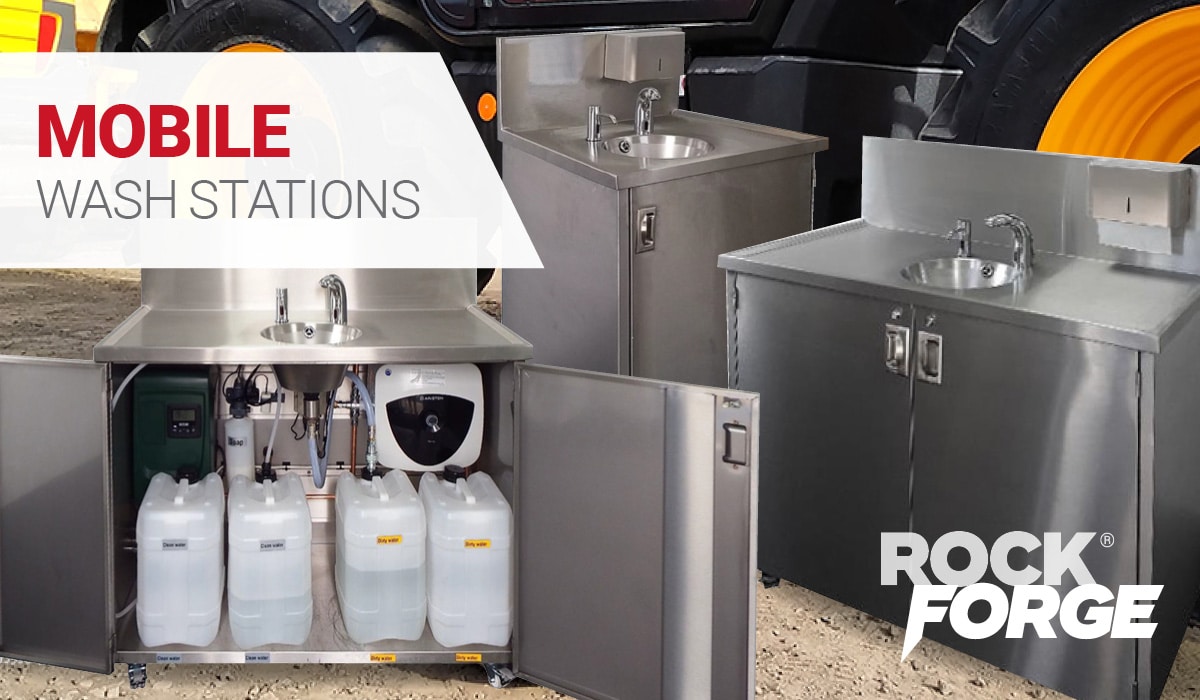 Mobile Wash Stations
The ultimate solution for additional handwashing facilities in any area, using the latest technology to provide a highly flexible, safe and durable hand cleansing facility – Anywhere!
Available in either 20l capacity (suitable for x100 hand washes) or 40ltr capacity (x200 hand washes) the units are fully portable, free-standing stainless steel units to provide hot water for handwashing. Soap dispenser and paper towel dispenser are optional extras for both at £390 and £158 respectively.
—
10ltr Mobile Handwash Station –

£3,740
MHS1010 690mm(w) x 500mm(d) x 950mm(h)
20ltr Mobile Handwash Station –

£3,990
MHS2020 1070mm(w) x 470mm(d) x 950mm(h)
—
Order your Mobile Hand Wash Station while stocks last:
Call 01525 493 333
---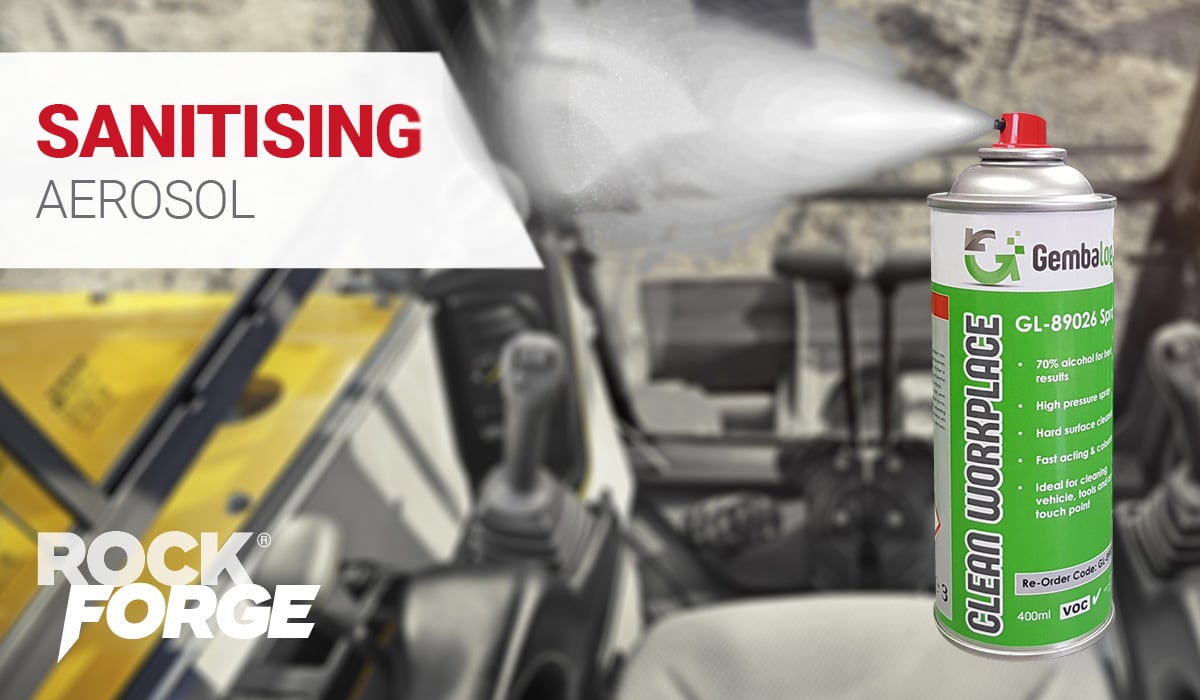 Personal Sanitising Aerosol – 400ml
For individual users when working on-site or in a new location this hand-held aerosol provides an effective sanitiser for hard surfaces such as vehicles, tools and other common workplace touchpoints. This fast-acting spray contains high-strength 70% alcohol and is colourless.
—
x1 Sanitising Aerosol –

£8.99


x6 Sanitising Aerosols –

£46.99


x12

Sanitising Aerosols –

£86.99
—
Order your Sanitising Aerosol while stocks last:
Call 01525 493 333
---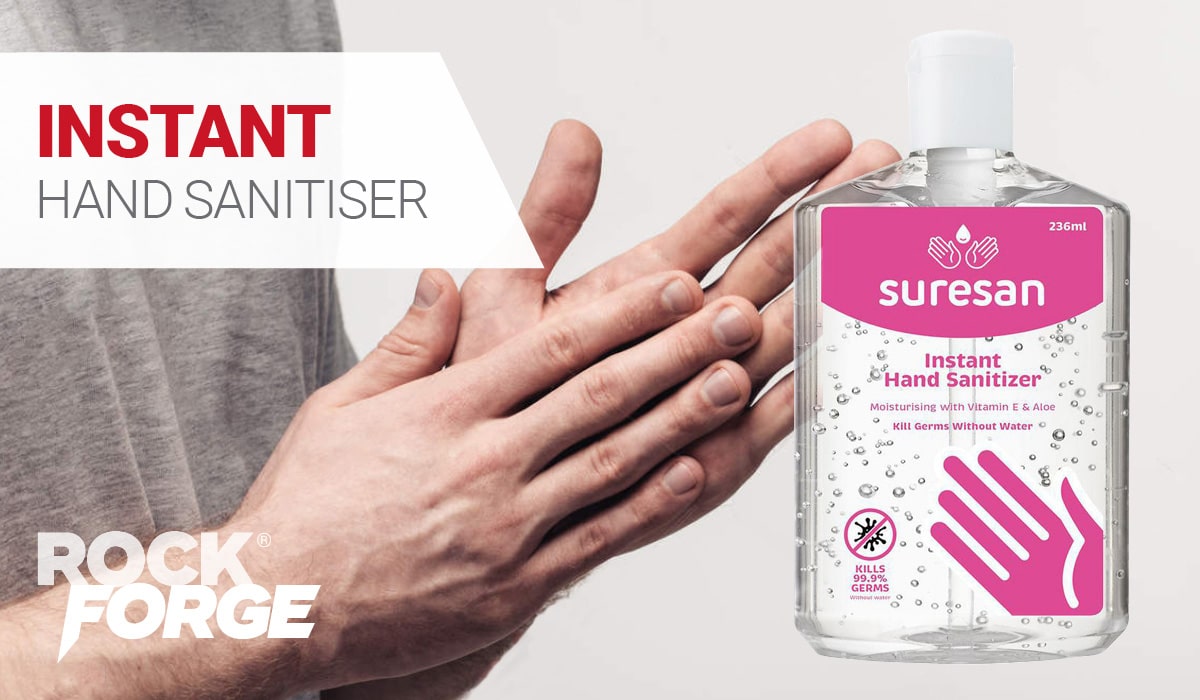 Instant Hand Sanitiser – 236ml
Keep your hands clean from germs and viruses with this easy to open and portable hand sanitising gel. The plastic flip-top bottle can be carried with you anywhere so you can disinfect hands after touching potentially contaminated surfaces.
While on-site, this clear gel is a great alternative to trying to find a public washroom to clean your hands with soap and water. It has an alcohol-based content and has the added feature of containing moisturising elements such as vitamin E and aloe vera so your skin won't dry out. Sanitisation products from Rockforge.
—
x24 Hand Sanitisers –

£144
(£6 each)
—
Order your Instant Hand Sanitiser while stocks last:
Call 01525 493 333
---
Looking for bulk quantities?
Speak to our sales team for bulk quantity rates:
Call 01525 493 333
email sales@rockforge.co.uk
---